Philco 40-100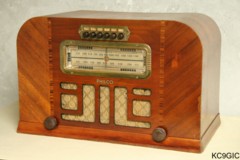 ---
Brand

:

Philco Radio & Telev. Corp

.

Year Of Manufacture:

1940

Frequency Range:

545 - 1700KC
Tube lineup:
1A5 G
Output
, 1H5 G
2nd Det/AVC/1st Audio
, 1N5 G
I.F.
, 1A7 G
Det/Osc

Schematic:

Available
here, courtesy of Nostalgia Air. Riders 12-15

---
A eBay purchase in April 2007, not sure why I bought this one. The price was rather cheap, with shipping being more than the winning bid. Restoration was rather simple. Capacitors were changed and restuffed, most of the old rubber coated wiring had to be replaced. On the first power up with my battery eliminator, no sound was heard. This was later traced down to a open I.F coil mounted below the chassis. Once this was replaced, and the radio aligned, it sounded great.

The original finish on the top and sides was in decent shape, so it was just touched up and preserved. The front and trim along the base required a complete refinish. A new plastic dial cover was made using a mold cut out of 1/4" plywood and some .020" plastic.

Below Center: The 40-100 before restoration.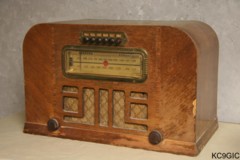 Back to Collection
Back to Homepage
© Copyright 2008 "Jeremy's Antique Radios"