---
Brand:
Radio Corporation of America
Year of Manufacture:
1927
Frequency Range:
550 - 1600 Kc
Tube Lineup:
80
Rectifier
,
UX-226
Input
, UX-226
R.F.
, UX-226
R.F.
, UX-227
Detector
, UX-226
1St A.F.
, UX-171A
2nd A.F
Schematic:
Available here, courtesy of Nostalgia Air. Riders 1-16
---
With the closing of most of the local flea markets to me, I had to venture elsewhere to shop. One afternoon in between work and night classes, it was time to waste time and spend money. A few weeks before I had noticed a large flea market sign in Clarksville, Indiana. With a little bit of driving I tracked the place down. Upon first entering the store it looked like the usual junk. At the first booth there was a long wooden rectangular box sitting on it's end. I initially walked past it but out of the corner of my eye I noticed wires hanging out of it. Long story short I ended up dragging this one home. Other than the missing lamp hood it seems to be complete. It even has an almost full set of globe tubes including one of the blue glass Arcturus types.

Below center: A side view showing the row of tubes and hinged lid.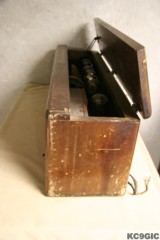 Back to Collection
Back to Homepage
© Copyright 2006 "Jeremy's Antique Radios"