Heathkit Model IT-12 Signal Tracer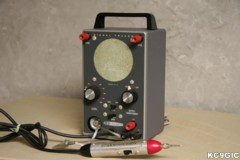 Click for larger photo.





During the summer of 2006, I was seeking out test equipment for my collection, this tracer showed up on ebay, and the rest is history. Upon first inspection, This thing looks like it was never put in use. It saw little use on my bench before being replaced by my more advanced NRI 34. Since this tracer probably won't see any use, it will be a nice static display.

A manual is available on my Downloads page, or by clicking here.

Back to Test Equipment
Back to Homepage
© Copyright 2006 "Jeremy's Antique Radios"